During our trip, Trinidad is what I consider to be our first true dose of Cuban culture. It was also the first place we went that we had a full day to explore. Everything up until this point had been a whirlwind.
There are a bunch of optional activities on this day such as
Going to the beach
Hiking a waterfall
Massage
Historic Steam Train Ride
Visit A Sugar Mill
But my Mom and I decided that we wanted to skip all of the optional activities and just wander around the town, people watching. It was a great choice indeed. The town was very lively – a lot of people walking around even during the work day. Private enterprise is still a new idea in Cuba but many of the townspeople were quite entrepreneurial – selling alcohol, coffee, bread, fruit, etc out of their barred-in windows.
They also offer some service-based businesses such as massage. My Mom got an hour massage for $15 CUC ($15 USD) while I read my book. Apparently the massage wasn't that great but the price was certainly right.
The Cubano Sandwich
The food in Trinidad, in general, was particularly delicious. But not everything. One of the main things I looked forward to trying in Cuba was a Cubano sandwich. It is my favorite Cuban food to eat in the US, particularly in Miami and I expected that they would be quite delicious in Cuba. I even enthusiastically told my guide Yunier that I wanted to try one. He told me he knew the perfect place. He took us there on our first day for lunch and they were sold out of sandwiches. So my Mom and I returned on the second day, our free day, to order one. It was not good.
The problem with a lot of food in Cuba is that the ingredients simply don't exist or are very difficult to get if they do. That is the case with almost all meat other than pork and seafood. The typical Cubano in America would have ham and pork loin but these ingredients simply weren't available in Cuba. Instead we were served what I learned to call "mechanically recovered ham" (similar to spam) on bread that wasn't toasted. I had to choke it down because my guide was so excited about my trying it.
Carnival
We didn't find out until later that we were actually in town during Carnival. We never made it over to the street where the actual Carnival was taking place, but three of the girls in my group did. I really wish I would have known because one of my main goals was to try street food rather than all the fancy tourist food.
But we did get to check out the free concert and DJ in the town square as part of carnival which was pretty damn cool.
Dinner at the Casa Particular
We decided to eat dinner at our Casa Particular (B&B) this night rather than eating out and it was completely amazing. For being a country of scarcity, Cubans are some of the most hospitable people in the world. The common theme at every meal was way too much food. And this meal was no exception. I was served a general portion of lobster and my Mom was served a large piece of chicken with more sides than we could have ever dreamed of finishing.
It was nice to experience true Cuban hospitality at someone's home rather than eating out at a restaurant.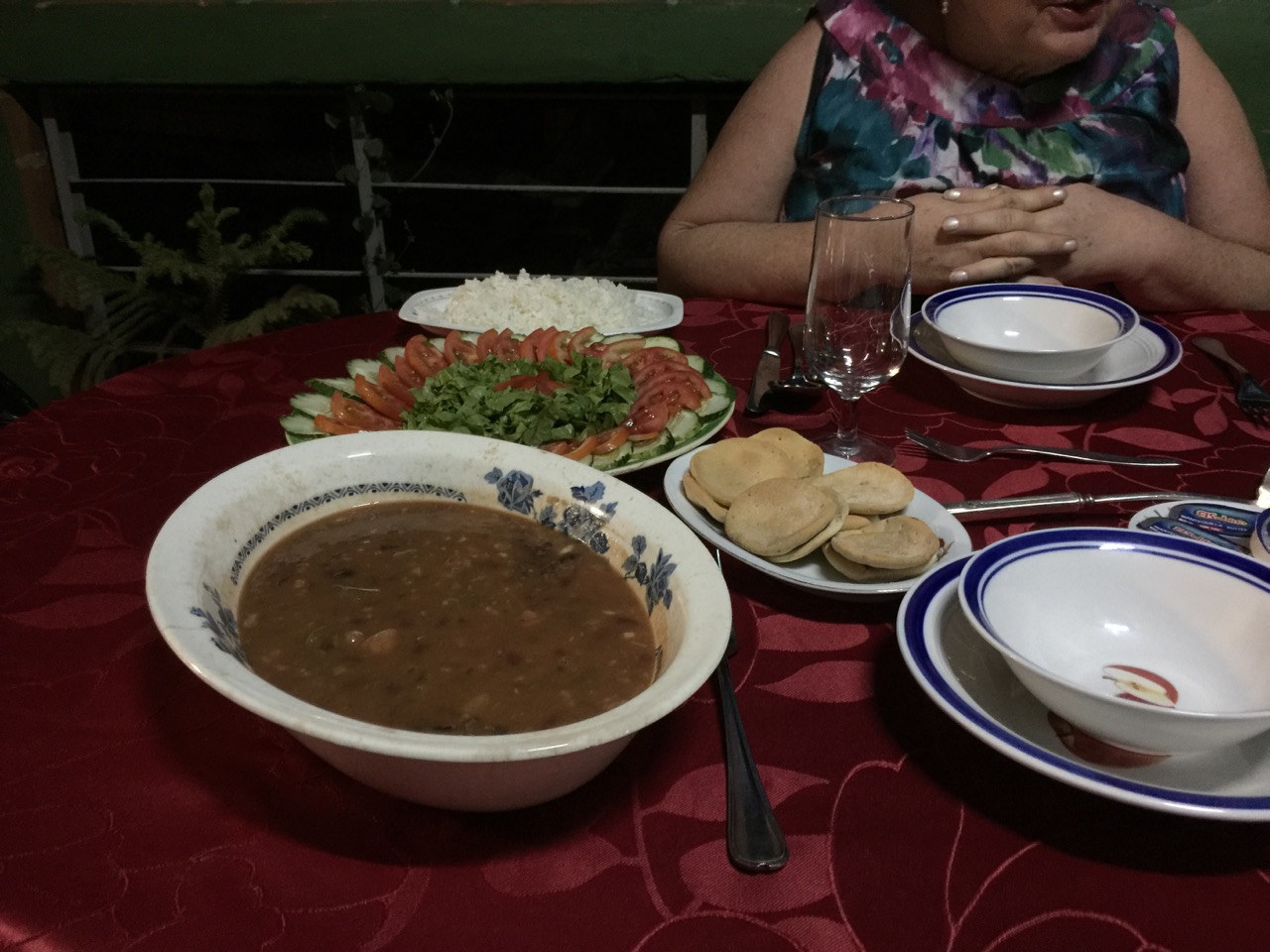 More Images from Trinidad
[RFG_gallery id='4′]